What you need to do
Current government advice recommends three actions to ensure we protect each other from the spread of coronavirus:
Wash hands keep washing your hands regularly
Cover face wear a face covering in enclosed spaces
Make space stay at least 2 metres apart - or 1 metre with a face covering or other precautions
If you have ANY of the following coronavirus symptoms:
A high temperature
A new, continuous cough
A loss of, or change to, your sense of smell or taste
You MUST ring 119 or visit https://www.gov.uk/get-coronavirus-test and order a test.
For further information regarding coronavirus including local restrictions in your area please visit https://www.gov.uk/coronavirus.

NHS Covid-19 App
The new NHS COVID-19 app, now available to download for free in England and Wales, is the fastest way to see if you're at risk from coronavirus. The faster you know, the quicker you can alert and protect your loved ones and community.
The app has a number of tools to protect you, including contact tracing, local area alerts and venue check-in. It uses proven technology from Apple and Google, designed to protect every user's privacy.
📱 Download now from:
➡ Google Play Store: https://play.google.com/store/apps/details...
➡ Apple App Store: https://apps.apple.com/us/app/id1520427663
Find out more: https://covid19.nhs.uk
Coronavirus Frequently Asked Questions (FAQ)
Q: How do I get a Covid-19 test?
A: Ring 119 or visit https://www.gov.uk/get-coronavirus-test
Q: I have a cough but no fever or changes in smell or taste – it can't be Covid-19, can it?
A: The current guidelines are ANY of persistent cough OR fever OR change smell/taste. You do not have to have all three.
Q: Why do I have to isolate? I feel fine otherwise!
A: Isolation is the ONLY way to stop the spread, and avoid infecting others – some of whom may not be fortunate to be able to clear the virus themselves. You MUST isolate if you have any symptoms of possible Covid-19, and you must not wait for a test before doing so.
Q: Is there a cure for Coronavirus?
A: At present, there is no cure for the virus. Treatment is supportive until you clear the virus. Antibiotics don't treat viruses. The annual flu vaccine does not protect you from coronavirus.
Q: I have a number of health problems. My employer wants to know if I am at risk and what do I do with work?
A: It is your employer's responsibility, not your GP, to make any relevant work related risk assessment. Employers should refer you to their occupational health teams if they are unsure.
Q: Do I need a sick note if isolating?
A: You do not need a doctor's sick note and GPs will not be issuing these. If your employer requires a note, you can download one from https://111.nhs.uk/isolation-note/
Q: How do you know if my cough is Covid-19? It feels like my asthma, flu or common cold!
A: It is very difficult to tell, in both adults and children, if your cough or fever is related to Covid-19 or something else. We appreciate the consequences of needing to isolate and the difficulties getting a test, and often we are hearing patients trying to persuade themselves it's something else - however the safest thing if unsure is to isolate, and arrange a test!
Q: I am medically exempt from wearing a face covering; do I need a letter from my GP?
A: You do NOT need a letter from your GP, and the practice will not be providing these. All the information about exemptions, including printing out your own cards, can be found at https://www.gov.uk/government/publications/face-coverings-when-to-wear-one-and-how-to-make-your-own/face-coverings-when-to-wear-one-and-how-to-make-your-own
Q: I have tested positive for Covid19 and have completed my 10 days isolation, but still feel unwell. What do I do?
A: We would ask you to ring the surgery so that the emergency doctor can speak to you about your ongoing symptoms. In addition, if you require further time off, we will also issue you with a sick note.
Q: I am under the hospital, and due to Covid19, my appointments, tests and procedures have been cancelled. I am unhappy, what can I do?
A: We would ask you to first discuss your concerns with your responsible doctor at the hospital; you can contact them via their secretaries, and the details can be found on your clinic letters. If you do not feel your concerns have been answered, you may speak to the Patient Advice and Liaison Service (PALS) - each hospital has these and can be reached via the hospital switchboards. We do appreciate that the NHS has had to make incredibly difficult decisions during this pandemic, and only the hospital can prioritise your case where clinically necessary.
Covid 19 National Lockdown Jan-Feb 2021 and Shielding
From the 5th January, the government has asked that we all stay at home. These new restrictions mean you can only leave your home only under certain circumstances. More information is available at:
Shielding will recommence that those that were asked to during the first lockdown. More information about who should be shielding can be found at:
www.nhs.uk/conditions/coronavirus-covid-19/people-at-higher-risk/whos-at-higher-risk-from-coronavirus/
If you have a chronic health condition managed by the hospital, and are uncertain, please liaise with them directly about what you should do.
If you suffer from chronic health problems, even if you are not classed as Clinically Extremely Vulnerable and not required to shield, you still may be at a higher risk - you can find further advice using the websites below:
Covid 19 Vaccine
We are incredibly excited about the development of Covid vaccines. The NHS in Nottinghamshire has developed a local vaccination plan, with hospitals, GP practices, and other healthcare professionals, working together to deliver the programme, and prioritise the highest risk groups first.
Over the coming weeks, priority patients will be invited to book an appointment for the vaccine. Don't worry, everyone will be called in due course.
More information can be found at https://www.nhs.uk/conditions/coronavirus-covid-19/coronavirus-vaccination/coronavirus-vaccine/
You do not need to ring the GP practice or hospital.
Please follow our Facebook page facebook.com/OfficialTorkardHill for the latest and most uptodate information.
If you have an appointment to see a doctor in the "Isolation Room"
If you have an appointment to see a doctor or nurse, with possible Covid19 symptoms, you will be seen in the isolation room. Please do not use the main entrance.
If driving, please park in one of the 2 allocated bays in the staff car park.
Please wear a face covering and ensure social distancing.
The doctor or nurse, when ready, will ring on your mobile phone.
When ready to be seen, please walk to the isolation room entrance, which is a short walk further into the staff car park. A picture of the entrance is below: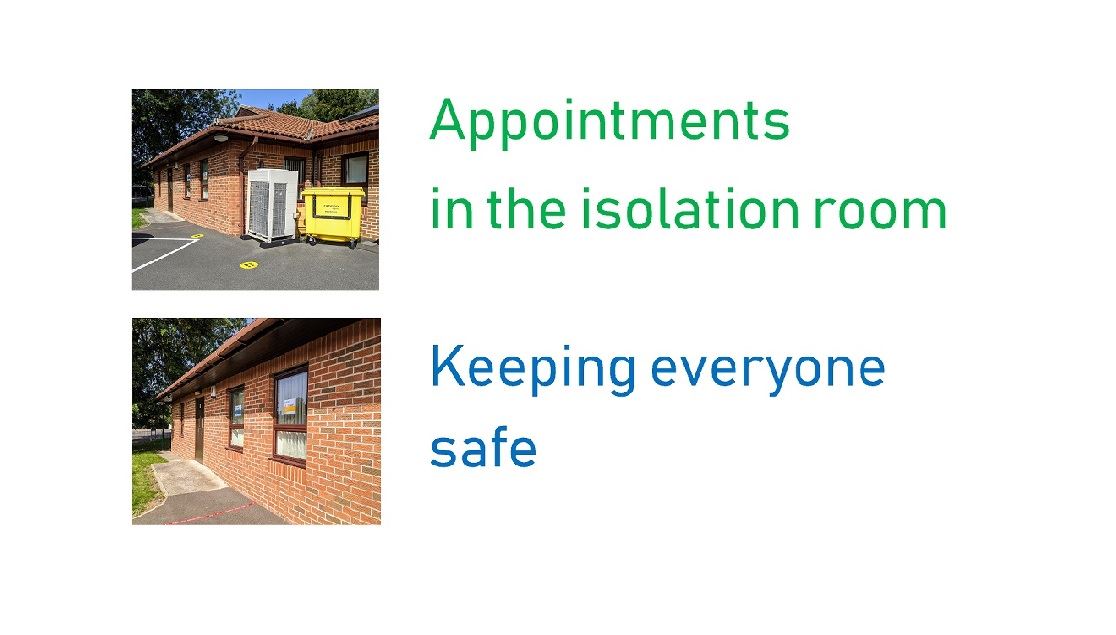 NHS Volunteer Responders
NHS Volunteers are here to help people in England to stay safe during COVID-19. We have been set up by NHS England and NHS Improvement, working with Royal Voluntary Service and the GoodSAM app.
Volunteers help people:
avoid busy places by collecting their shopping, medicines and other important items
have regular contact with other people by making regular friendly phone calls
get to medical appointments by giving lifts
How long will this service be available?
The NHS Volunteer Responders service will continue until at least March 2021.
People who can use this service
Anyone who needs to self-isolate for any reason and those who choose to stay at home as much as possible because they are cautious about going out during the COVID-19 outbreak.
To arrange support for yourself or someone you know call 0808 196 3646 (8am to 8pm, 7 days a week) or visit their website https://nhsvolunteerresponders.org.uk/
Supporting your recovery after COVID-19
The symptoms of Covid19 may continue some time after your isolation period ends. If you continue to feel unwell, please ring us.
It may be helpful to monitor your temperature, oxygen levels, and hydration.
The NHS Covid19 Recovery website has some excellent information on the effects of the virus, both on body and mind, and how you can feel better:
Mental Health during Covid 19
It's okay to not be okay. Please don't struggle alone.
Call the Nottinghamshire Mental Health advice line on 0300 555 0730, 9am-11pm, 7 days a week.
In a mental health crisis? Please call 0808 196 3779 available 24/7.